Laurie has made this recipe from halfbackedharvest.com twice now.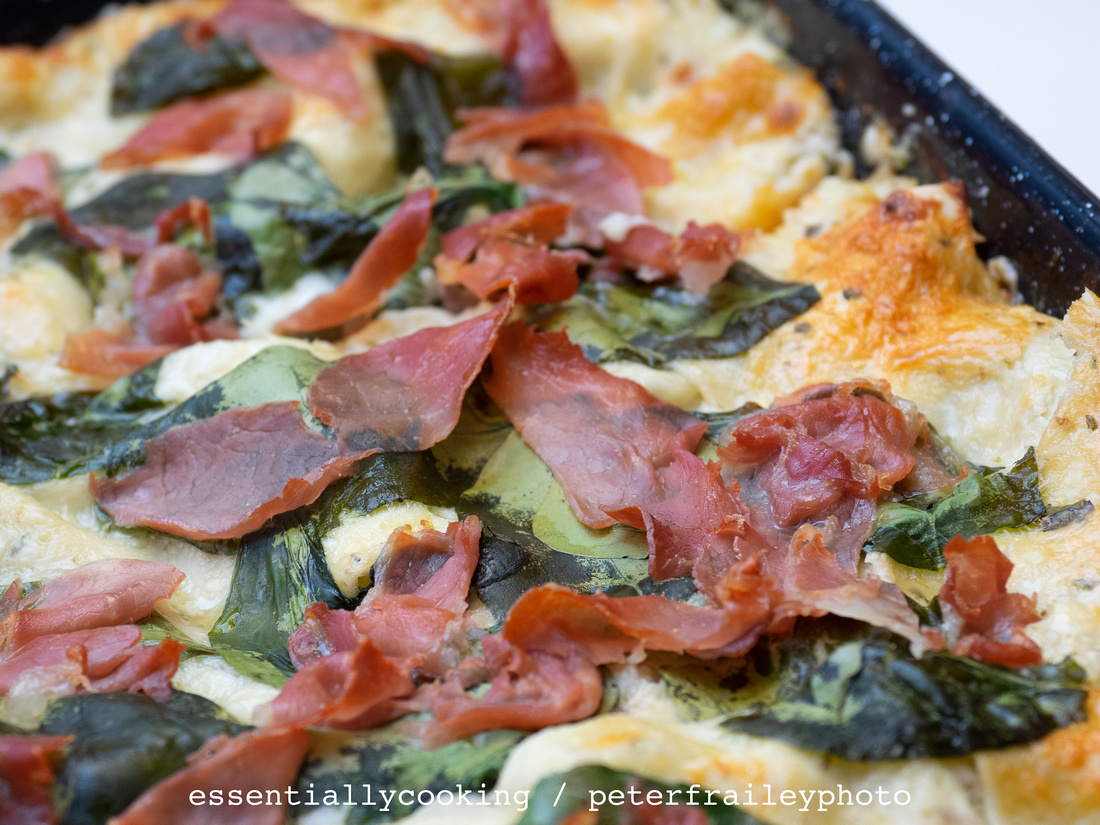 The first time was at Christmas over a year ago. I see in Laurie's notes that we gave it four stars (of five) at the time. We brought it to a Christmas dinner with an Italian theme, and found that it provided a nice complement to a tomato based meal that included sausage and meatball "gravy" for the spaghetti and (as I recall) a traditional lasagna. Our white lasagna contribution was hugely popular.
The second time she cooked this lasagna was last month. It is the lasagna you see in these photos. Almost after our first bite, we elevated it to five stars! Lasagnas are great for pot-luck suppers. Cook them ahead of time, but make sure the host(s) have room in their oven(s), to keep it warm.
Crispy Prosciutto White Lasagna
What you need:
1 stick (1/2 cup) butter
2 cloves garlic minced or grated
1 tsp dried basil
1 tsp dried oregano
1/2 teaspoon kosher salt + pepper
1/4 cup flour
2 cups milk (2% is fine)
2 cups chicken broth (vegetable broth can be used)
1 cup shredded mozzarella cheese
1 cup parmesan cheese grated
2 cups whole milk ricotta
2 cups shredded provolone
2 packages frozen spinach thawed and drained
1 box no-boil lasagna noodles
3 ounces prosciutto torn
What to do:
Follow the step-by-step directions at halfbakedharvest.com, here.
Laurie's suggestions:
Place some fresh spinach leaves on the last layer as well. Looks beautiful!
The Barilla 9-oz. box of lasagna noodles is fine.