During December we took a cold two days to get away to mid-coast Maine. Specifically, we lost ourselves in the area from Freeport (home of LLBean) to Bath (The City of Ships), and we stayed in-between in Brunswick, where I'd also spent my college years. We stayed at the Brunswick Inn, a bed and breakfast, so we were on our own for lunch and dinner. On our second day we headed up to Bath for a quick visit to the bakery counter at Mae's Cafe and Bakery for cookies, but also for lunch at a destination Laurie had made a note of after reading an article in the blog mainetoday.com. The destination was a cafe called "Run with Soup Cafe".
It's on 1356 Washington Street, which runs right through town. because of that, we scratched our heads because we walk this street a lot during the summer when we spend a number of days at Mulberry House, another bed and breakfast, and we'd never seen a cafe of that name.
When we couldn't find it, we put the address in our GPS and it aimed us in a direction that went out of the town center and into residential areas. As we counted houses up toward 1356, we were sure the address must be wrong. Why would anyone open a restaurant way out of town, in a residential area? However, when we arrived at 1356, a small sign (I think it was a sandwich board) with the word "Cafe" on it marked the entrance to a long driveway. We turned left onto the driveway and it took us to what appeared to be an old hospital.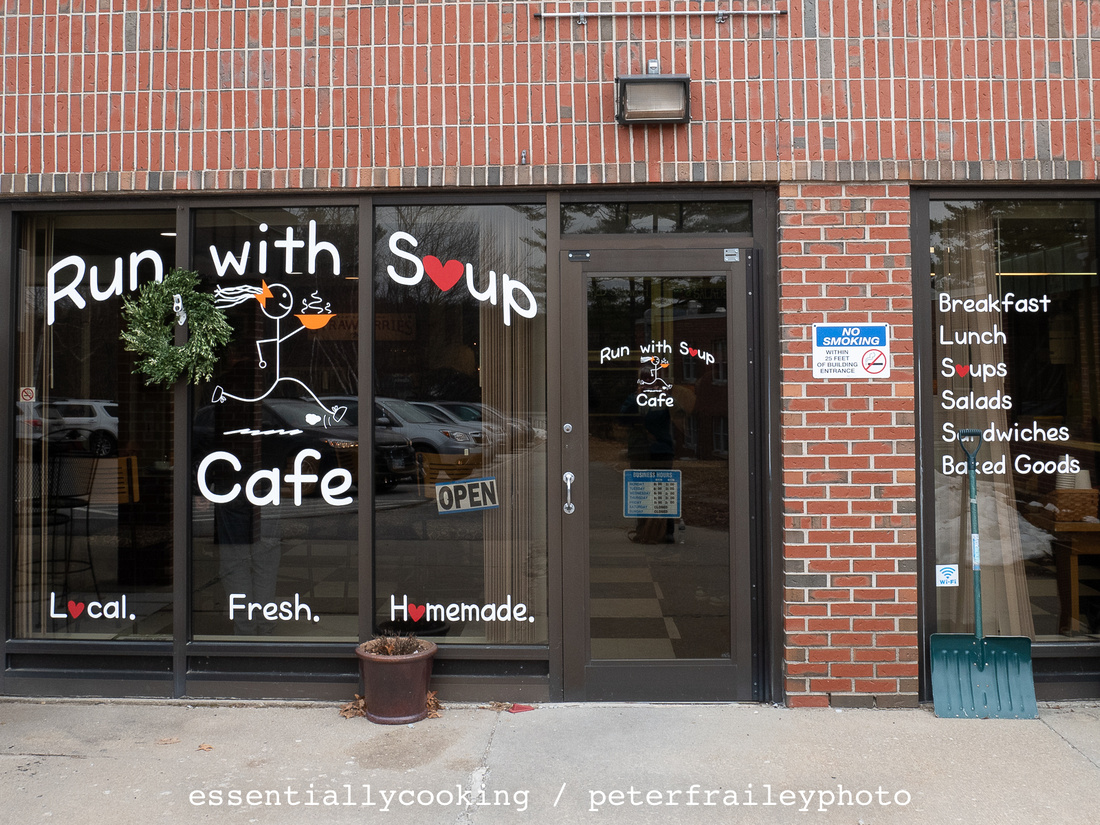 Indeed, Run with Soup Cafe is located on the first floor of what had been the city's hospital "back in the day". Much of the building is still leasable. Some of the second floor of one of the buildings appear to be apartments. I was told that some college courses were also given in this building, in the past.
Everything inside is pretty basic. If you want to use the rest room you'll need to walk down the institutional hallway of the old hospital to the rest room available to the entire floor.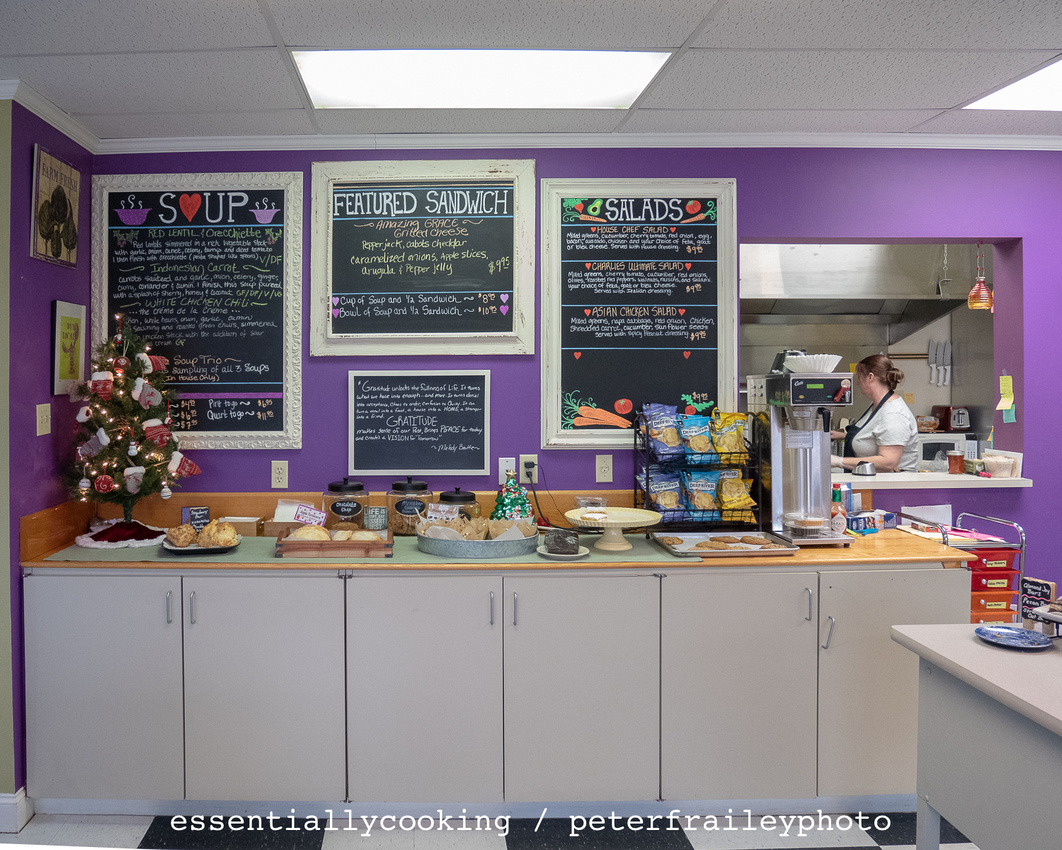 Every week three new soups are featured
We thought it was great that this old building was now being recycled and reused for apartments, artist studios, and a cafe.
I didn't take any notes while there; but, looking at the photos, I do recall that they offered three soups and three salads. We both picked the bowl of soup and 1/2 of a sandwich option for $10.95 each. Too, they gave us samples of each of the soups, which was nice and friendly. It is also good marketing, because all the soups were available "to go" in pint containers. Because of the cookies we had bought earlier at Mae's Bakery, we skipped the sweets here, but they did look good. Next time.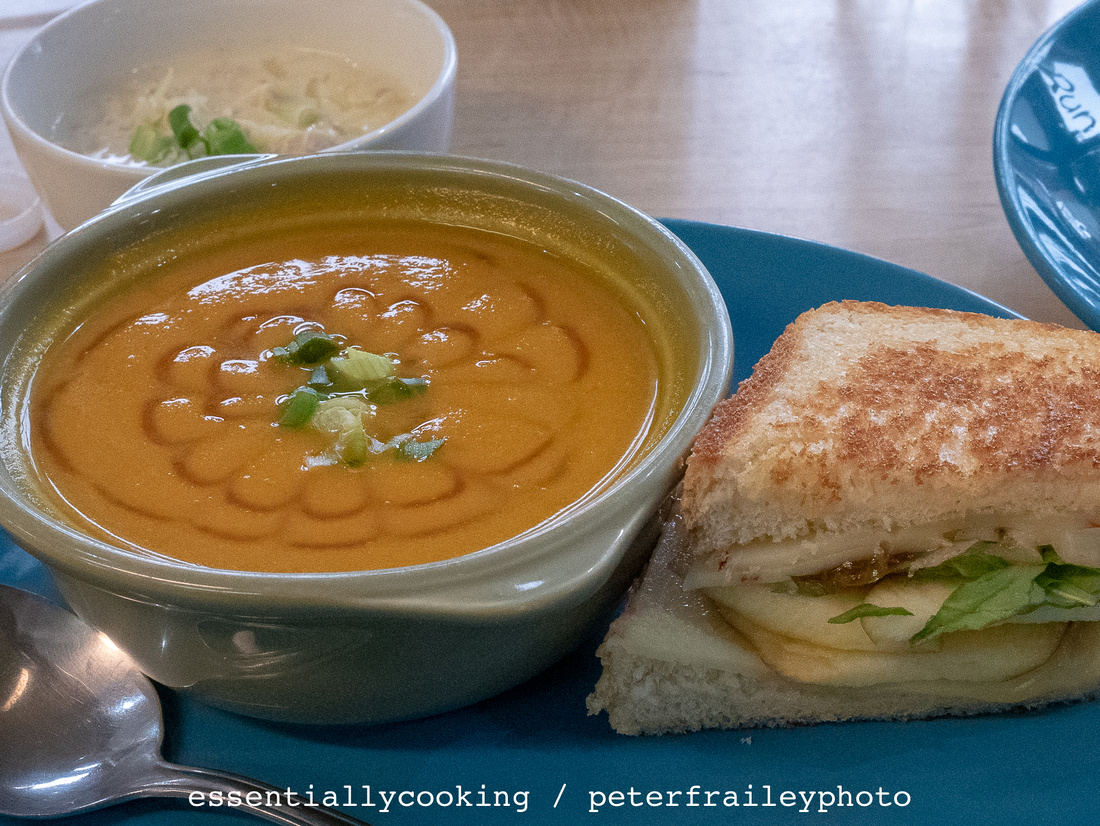 Amazing Grace Grilled Cheese sandwich and Indonesian Carrot soup
Amazing Grace Gilled Cheese: pepper jack cheese, caramelized onions, apple slices, arugula, and pepper jelly
I want to point out something cool about the menu. The soups change every week. That's a bit of a problem if you have a favorite soup. I was told it might be 40 weeks before a soup is offered again.
If you are a soup and sandwich fan, this is a terrific place to stop. Eat in or take out. And the prices are so reasonable.