Laurie was talking about "comfort food" the other night. That sounded great to me. After all, it was December and outside it was cold, dark, and damp. A perfect night for comfort food.
Perhaps at the top of our comfort food list is Shepherd's Pie. What is more comforting than meat and potatoes?
When it comes to Shepherd's Pie we have pretty much settled on this recipe, though its flavor will vary depending on what meat(s) are used. The starting point was a recipe adapted from "The Great American Pie Book" by Judith Choate ( Yankee Books, 1984). Unfortunately I am unable to find a link to it on the Internet.
Her recipe says the pie will feed 4 to 6. I'm thinking more like 4 to 8. I suppose it all depends on what else is being served alongside.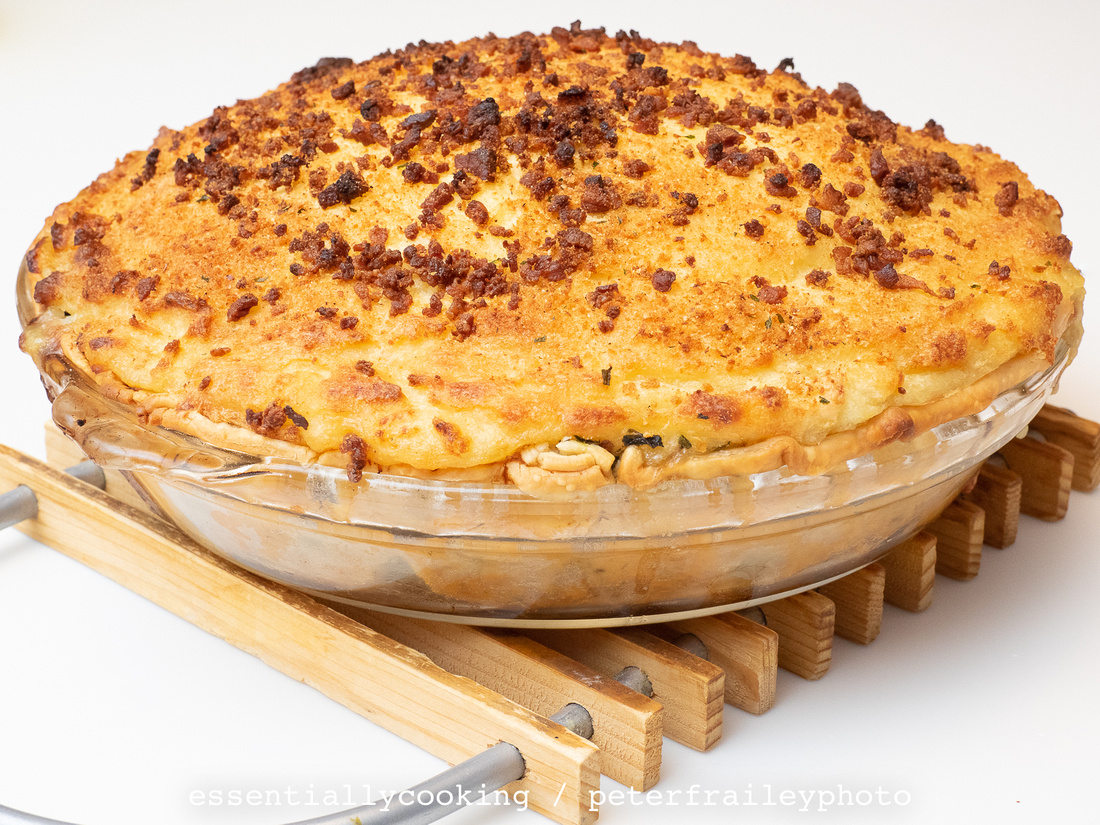 Served with peas and cranberry sauce


Shepherd's Pie
What is needed:
2 T. unsalted butter
3 T. olive oil
2 lbs ground meat (veal, beef, lamb, pork, poultry, venison, or combine)
1 large onion, chopped fine
1 tsp. thyme
½ tsp. dill
1 cup spinach, chopped, cooked, thoroughly drained
4 c. mashed potatoes*
salt and ground black pepper to taste
1 T. butter, melted
1 T. bread crumbs
What to do:
Preheat oven to 500°.
Pastry needed: Unbaked 9" pie crust (ex., Pillsbury)
Baking time: 15 minutes at 500°, 35 to 45 minutes at 375°.
Melt the 2 T. butter and olive oil in heavy saucepan over medium heat.
Add the lamb (other meat, combo, or whatever), onion, and herbs
Cook, stirring constantly, until meat loses its color.
Add the spinach and 1 c. mashed potato. Stir to blend
Add salt and pepper to taste.
Place mixture in pie crust and use remaining mashed potatoes to cover the top, mounding it slightly in the center
Brush with 1 T. melted butter, sprinkle with bread crumbs, and bake as directed.
Laurie's Notes:
I generally use 50% lamb, 50% lean ground beef. The lamb gives it that shepherd's pie flavor.
* A recipe's worth of mashed potatoes:
2 1/2 lbs. Yukon gold potatoes
1/2 c. milk or half-and-half, or a combination
1 T. butter
Peel and cut potatoes into quarters lengthwise. Remove any spots, lumps or knots (warts).
Place potatoes in a large pot (6-quart) and cover with cold, salted water by an inch. Bring to a boil, reduce heat to medium-low and allow to simmer until fork tender (about 15-20 minutes).
Drain cooked potatoes, add the milk and butter
Mash the potatoes with a potato masher until smooth, adding a little extra milk if needed. (OPTIONAL: Use a strong wooden spoon OR electric beaters to beat further until smooth. Be careful NOT to over beat or they will become gluey.)